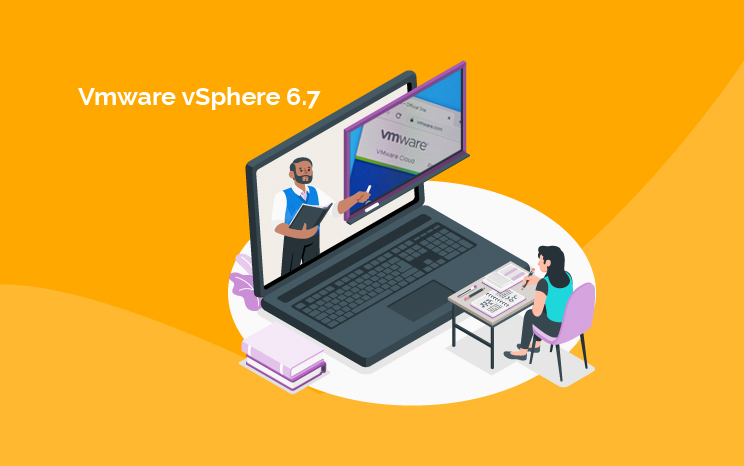 Time
9:00 AM - 7:00 PM (Monday to Sunday)
Vmware vSphere 6.7
Introduction to vendor
VMware is a virtualization and cloud computing software provider based in Palo Alto, California. Founded in 1998.
EMC Corporation originally acquired VMware in 2004; EMC was later acquired by Dell Technologies in 2016.
VMware bases its virtualization technologies on its bare-metal hypervisor ESX/ESXi., installed on the physical server to allow for multiple virtual machines (VMs) to run on the same physical server.
A recent survey shows that VMware vSphere is the preferred hypervisor in ~70% of all data centers.
Course content:
Introduction to VMware Virtualization

Introduce virtualization, virtual machines, and vSphere components
Explain the concepts of server, network, and storage virtualization

Creating Virtual Machines

Introduce virtual machines, virtual machine hardware, and virtual machine files
Deploy a single virtual machine

Installing VMware Components

Introduce ESXi installation
Describe boot-from-SAN requirements

VMware vCenter Server

Installing vCenter Server
Manage vCenter Server inventory objects
Configure and manage vSphere infrastructure with VMware Host Client™ and VMware vSphere® Web Client

Configuring and Managing Virtual Networks

Describe, create, modify and manage a standard & Distributed virtual switch
Configuring and Managing Virtual Storage with iSCSI storage

Access and Authentication Control

Control user access through roles and permissions
Integrate ESXi with Active Directory

Resource Management and Monitoring

Introduce virtual CPU and memory concepts
Describe methods for optimizing CPU and memory usage

VMotion

Migrate virtual machines with VMware vSphere® VMotion®
Use VMware vSphere® Storage VMotion® to migrate virtual machine storage

High Availability

Discuss the VMware vSphere® High Availability cluster architecture
Configure vSphere HA
Manage vSphere HA and VMware vSphere® Fault Tolerance

Distributed Resource scheduler

Use VMware vSphere® Distributed Resource Scheduler™ clusters to improve host scalability
About the Course
Course Features
Course duration – 40 hours
Preparation for VCP6-DCV exam
One-on-one instructor attention
Training delivered via hands-on, interactive sessions in laboratories
Course completion certificate
Course Benefits
Best way of career advancement in the IT industry
Advanced credibility with employers and clients
Great job opportunities due to consistently growing demand of VMware solutions
Suitable for various job positions:

VMware Admin
System Admin (Virtualization)
Data Center Virtualization Engineer
Course Fees
Special Offer for Working professional and scholarship offer is given to meritious students.
Contact 033-40037224 / 46034406/7 or 9088242456 for special course fees offered.
Placement
IIHT's wide reach spreads across 150+ centres around the world which includes 20 countries. IIHT has placed over 10 lakh students across the globe over the years! Our tailor-made IT training solutions are exclusively job-oriented, elevating the skill and employability quotient. Not just polishing your technical skills, we also work towards enhancing your confidence to face the competition. IIHT ULTADANGA has been awarded as the Best Placement Centre in India with its 100% Placement Record in 2017-21.
Apart from the central placement assistance, which is guided by the team of highly qualified professionals, we also have zonal placement cells, making opportunities reach every potential segment. To further achieve this, IIHT has its very own job help website – jobready.iiht.com. This website is your one stop solution to making you interview ready, industry ready and job ready. jobready.iiht.com is a storehouse of information on guidance to everything related to getting an IT job along with some great motivational content.
The number of job postings for skilled candidates is growing at a fast rate in the IT industry. We're here to help you outwit your peers by creating an organized platform to find suitable job opportunities in the industry.
Join Today at IIHT ULTADANGA to have best IT career in ITMS.
IIHT ULTADANGA have both week days class and weekend classes of 2 hours each class duration. IIHT ULTADANGA is open from 9:00 AM to 7:00 PM (Monday to Sunday).