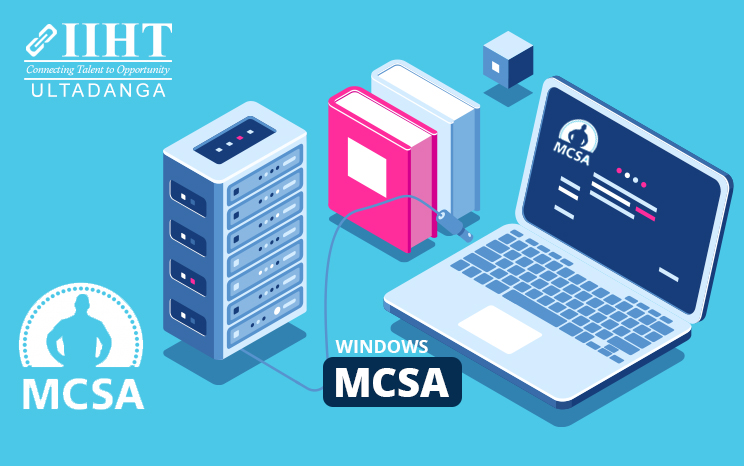 Time
9:00 AM - 7:00 PM (Monday to Sunday)
Microsoft Certified Solutions Associate (MCSA)
IIHT Ultadanga is long being acknowledged by the IT industries as the leading Computer Training Institute for MCSA 2012 courses in Kolkata. The MCSA 2012 course includes roadmap to the Global Certification and MCSA 2012 Program is designed to get the best placement in Kolkata. IIHT is the best MCSA 2012 Training Institute in Kolkata which is acknowledged by the IT industries. All B techs, BCA, MCA, graduated have undergone training in MCSA 2012 Program from IIHT ULTADANGA. So, if you are looking for Best MCSA training institute in Kolkata, you are at right place and join us for best placement in MCSA server.
About the Course
Microsoft Certified Solutions Associate (MCSA) is a valuable certification program, applicable for those who seek entry-level jobs in the IT (information technology) environment. It offers guidance on installing, configuring and administering Windows Server 2012. It is a prerequisite for more advanced Microsoft certification – Microsoft Certified Solutions Expert (MCSE).
The three papers of MCSA are as follows:
70-410: Installing and Configuring Windows Server 2012
70-411: Administering Windows Server 2012
70-412: Configuring Advanced Windows Server 2012 Services
Fresher and Professional those are sincere about IT JOBs, have undergone training in MCSA 2012 Program from IIHT ULTADANGA – many successful sorties in IT industries.
To qualify for a position as a windows server systems administrator or as a computer network specialist:
STEP 1: Choose right place, get trained with sufficient hands-on lab experience
STEP 2: Sit for the exam and earn certificate form globally recognize Institute "IIHT"
STEP 3: Crack the interview
Join IIHT ULTADANGA for the best placement in MCSA server
Course outline: MCSA 2012 ( Duration : 80 hours )
Installing and Configuring Windows Server 2012 – 70-410

Deploying and Managing Windows Server 2012
Introduction to Active Directory Domain Services
Implementing Dynamic Host Configuration Protocol (DHCP)
Implementing DNS
Implementing Local Storage
Implementing File and Print Services
Implementing Group Policy
Implementing Server Virtualization with Hyper-V

Administering Windows Server 2012 – 70-411

Maintaining Active Directory Domain Services
Managing User and Service Accounts
Implementing a Group Policy Infrastructure
Implementing Network Access Protection (NAP)
Implementing Remote Access (VPN)
Deploying and Maintaining Server Images (WDS)
Implementing Update Management (WSUS)
Monitoring Windows Server 2012

Configuring Advanced Windows Server 2012 Services – 70-412

Implementing Active Directory Domain Services Sites and Replication
Implementing ADCS and HTTPS
Implementing Network Load Balancing (NLB)
Implementing Failover Clustering
Implementing Business Continuity and Disaster Recovery
Course Features
Course Duration – 80 hours
Practical workshops in well-equipped labs
Course completion IIHT certificate
100% Placement Support
Course Benefits
Training on implementing a wide range of Microsoft solutions
Introduction to plenty of IT career opportunities
Excellent demand of MCSA professionals, since 92% of companies use Windows Server products and globally recognized server paper of MCSA is on HIGH DEMAND
Suitable for various job positions:
Windows Administrator
System Administrator
Microsoft Server Administrator
System Engineer
Desktop Support Engineer
Contact 9088242456 to avail the best offer price for MCSA 2012
Course Fees
Special Offer for Working professional and scholarship offer is given to meritious students.
Contact 033-40037224 / 46034406/7 or 9088242456 for special course fees offered.
Placement
IIHT's wide reach spreads across 150+ centres around the world which includes 20 countries. IIHT has placed over 10 lakh students across the globe over the years! Our tailor-made IT training solutions are exclusively job-oriented, elevating the skill and employability quotient. Not just polishing your technical skills, we also work towards enhancing your confidence to face the competition. IIHT ULTADANGA has been awarded as the Best Placement Centre in India with its 100% Placement Record in 2017-21.
Apart from the central placement assistance, which is guided by the team of highly qualified professionals, we also have zonal placement cells, making opportunities reach every potential segment. To further achieve this, IIHT has its very own job help website – jobready.iiht.com. This website is your one stop solution to making you interview ready, industry ready and job ready. jobready.iiht.com is a storehouse of information on guidance to everything related to getting an IT job along with some great motivational content.
The number of job postings for skilled candidates is growing at a fast rate in the IT industry. We're here to help you outwit your peers by creating an organized platform to find suitable job opportunities in the industry.
Join Today at IIHT ULTADANGA to have best IT career in ITMS.
IIHT ULTADANGA have both week days class and weekend classes of 2 hours each class duration. IIHT ULTADANGA is open from 9:00 AM to 7:00 PM (Monday to Sunday).