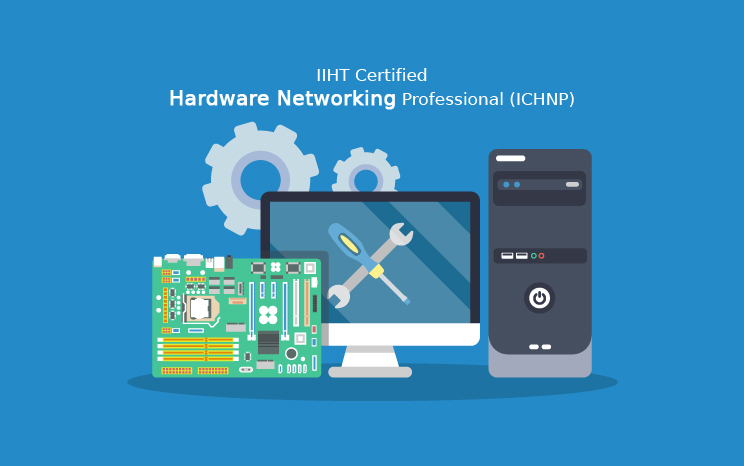 Time
9:00 AM - 7:00 PM (Monday to Sunday)
IIHT Certified Hardware Networking Professional (ICHNP)
About the Course
IIHT Certified Hardware Networking Professional (ICHNP) is an ideal training program for high school pass-outs who want to enter into the world of Infrastructure Management Service. The course offers a complete overview on hardware and networking concepts and provides a basic IMS knowledge that includes desktop, database, storage and security management. ICHNP certified professionals get employed at entry-level positions to manage hardware and networking aspects of organizations.
Course Benefits
1. Extensive curriculum that includes:
Digital Electronics
A+
Network+
RedHat Linux Essential
Laptop Maintenance
2. Suitable for various job positions:
Hardware Engineer
PC Support Engineer
Tech Support Specialist
Desktop Support Technician
Network Technician
Network Support Specialist
3. Assists in obtaining other advanced certifications such as:
Microsoft Certified Application Specialist on Microsoft Office 2007
A+
Network+
Course Features
Training on multiple hardware networking technologies
Practical workshops for hands-on experience
Highly experienced faculty for theoretical and practical sessions
Course completion certificate
Course Fees
Special Offer for Working professional and scholarship offer is given to meritious students.
Contact 033-40037224 / 46034406/7 or 9088242456 for special course fees offered.
Placement
IIHT's wide reach spreads across 150+ centres around the world which includes 20 countries. IIHT has placed over 10 lakh students across the globe over the years! Our tailor-made IT training solutions are exclusively job-oriented, elevating the skill and employability quotient. Not just polishing your technical skills, we also work towards enhancing your confidence to face the competition. IIHT ULTADANGA has been awarded as the Best Placement Centre in India with its 100% Placement Record in 2017-21.
Apart from the central placement assistance, which is guided by the team of highly qualified professionals, we also have zonal placement cells, making opportunities reach every potential segment. To further achieve this, IIHT has its very own job help website – jobready.iiht.com. This website is your one stop solution to making you interview ready, industry ready and job ready. jobready.iiht.com is a storehouse of information on guidance to everything related to getting an IT job along with some great motivational content.
The number of job postings for skilled candidates is growing at a fast rate in the IT industry. We're here to help you outwit your peers by creating an organized platform to find suitable job opportunities in the industry.
Join Today at IIHT ULTADANGA to have best IT career in ITMS.
IIHT ULTADANGA have both week days class and weekend classes of 2 hours each class duration. IIHT ULTADANGA is open from 9:00 AM to 7:00 PM (Monday to Sunday).