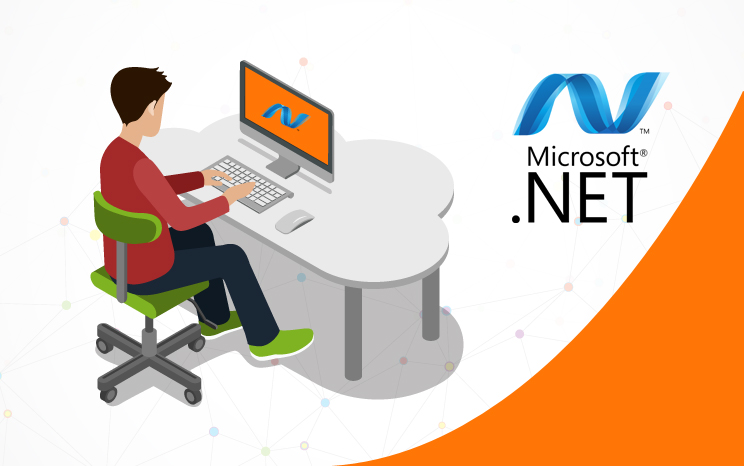 Time
9:00 AM - 7:00 PM (Monday to Sunday)
Dot Net Training - The Best DOT NET / ASP.NET Training Institute in Kolkata
IIHT Ultadanga is the leading Computer Training Institute for Dot Net courses in Kolkata. The Dot Net course includes C#, ASP.NET, SQL Server, MVC Model and Dot Net Program is designed to get the best placement in Kolkata. IIHT is the best Dot Net Training Institute in Kolkata which is acknowledged by the IT industries. All B techs, BCA, MCA, graduated have undergone training in Dot Net Program from IIHT ULTADANGA. So, if you are looking for Best Dot Net and ASP.NET C#training institute in Kolkata, you are at right place and join us for best placement in Dot NET Application.
About the Course
Microsoft .NET is a very popular programming language that provides everything required to develop and deploy web service-based IT Architecture Development
Organizations are implementing .NET technologies and Web services to create connected business globally.
Plethora of job opportunities is available in .NET, in top companies like Honeywell, Sony, GlaxoSmithKline, HCL, Capgemini, Tech Mahindra, JP Morgan Chase, Cognizant, Accenture, Wipro, Sapient, Technosoft global, etc.
Course Outline
DOT NET Syllabus ( Total 120 hours )

Programming Fundamentals ( 24 hours )

Algorithm & Data structures
Selection and Control Structures
Arrays and Strings

Object Oriented concepts

Beginning with Object-Oriented concepts
Classes & Objects
Encapsulation and Abstraction

SQL ( 24 hours )

What is ANSI SQL
DDL DML DQL DCL TCL
Understanding Constraints & their Types
SQL Operators
SQL Functions
Joins & their Types
More Clauses in SQL
Subqueries
Schema Objects

Programming with C# ( 32 hours )

Checkin, check out with TFS
Data Types and Control flow
Classes and Objects in C#
Inheritance & Interfaces
Generics & Collections
Exception Handling
File Handling
XML and .Net Framework
Delegates and Events
Multi-Threading
Debugging with Visual Studio
Omega Hands on
LINQ to objects

Programming with ASP.NET ( 40 hours )

Introduction to Web and Working with ASP.NET
Building ASP.NET pages
Performing Data Access
Performing Data Access
Building ASP.NET Components
ASP.NET Controls
ASP.NET Site Navigation Control
Building ASP.NET Application
Authentication
Exception handling
Logging
error pages
Web services
ASP.NET Configuration Settings

Service-Oriented Architecture(SOA) and Project

WS-Specifications
Built-In Bindings
Comparing WCF with existing MS Technologies
Creating and Consuming a Service
Passing Data Between Applications
Hosting and configuring a service
Project on ASP.NET, C# with SQL
Course Features
At IIHT's Diploma Programme in .Net you will learn about Operating System, Programming Fundamentals, Object Oriented concepts, Software Engineering, Testing Fundamentals, SQL, Introduction to UML, Programming with C#, Programming with ADO.NET, Programming with ASP.NET, Introduction to Service-Oriented Architecture (SOA), WCF Enhancements.
Course Benefits
1. .NET professionals become proficient in:
MCSD –Web Applications
Programming in HTML5 with Java Script and CSS3 70-480
Developing ASP.NET MVC web applications 70-486
MCSD – Windows Store Apps
Programming in C#
Essentials of Developing Windows Store App using C#
Advanced of Developing Windows Store App using C#
2. Suitable for various job positions:
Web Applications Developer
Windows Store Application Developer
Software Developer
Sr. Software Developer
Course Fees
Special Offer for Working professional and scholarship offer is given to meritious students.
Contact 033-40037224 / 46034406/7 or 9088242456 for special course fees offered.
Placement
IIHT's wide reach spreads across 150+ centres around the world which includes 20 countries. IIHT has placed over 10 lakh students across the globe over the years! Our tailor-made IT training solutions are exclusively job-oriented, elevating the skill and employability quotient. Not just polishing your technical skills, we also work towards enhancing your confidence to face the competition. IIHT ULTADANGA has been awarded as the Best Placement Centre in India with its 100% Placement Record in 2017-21.
Apart from the central placement assistance, which is guided by the team of highly qualified professionals, we also have zonal placement cells, making opportunities reach every potential segment. To further achieve this, IIHT has its very own job help website – jobready.iiht.com. This website is your one stop solution to making you interview ready, industry ready and job ready. jobready.iiht.com is a storehouse of information on guidance to everything related to getting an IT job along with some great motivational content.
The number of job postings for skilled candidates is growing at a fast rate in the IT industry. We're here to help you outwit your peers by creating an organized platform to find suitable job opportunities in the industry.
Join Today at IIHT ULTADANGA to have best IT career in ITMS.
IIHT ULTADANGA have both week days class and weekend classes of 2 hours each class duration. IIHT ULTADANGA is open from 9:00 AM to 7:00 PM (Monday to Sunday).