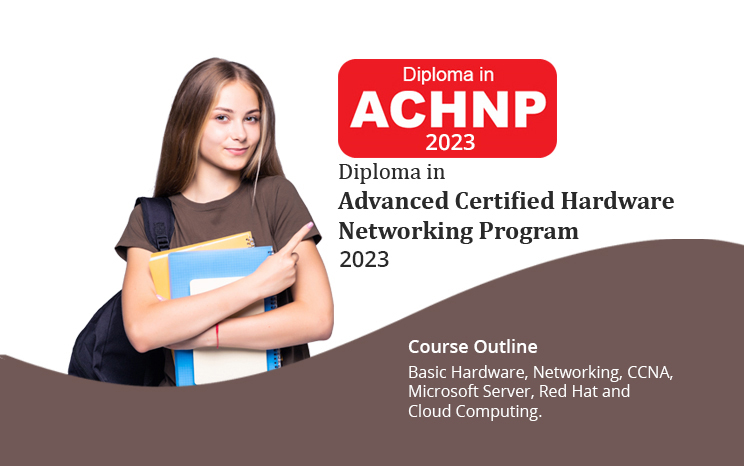 Course Duration
18 months
Time
9:00 AM - 7:00 PM (Monday to Sunday)
Diploma in Advanced Certified Hardware Networking Program 2023
Why Learn Diploma in ACHNP 2023?
Diploma in Advanced Certified Hardware and Networking Professional (ACHNP) 2023 is an in-demand certification program in the Hardware and Networking field. This program is focused on current Industry needs, it exposes you to work environment from day one and aids in clear understanding of the technologies with simple approach. It is highly suitable for IT aspirants who have completed graduates from Science, Commerce and Arts. It introduces students to concepts such as Infrastructure Management Service (IMS) and technologies such as Microsoft, Cisco and Linux. ACHNP certified students get easily placed as Hardware and Networking executives in organizations across verticals. The participants learn in the similar Infrastructure used by the leading IT Companies and become familiar & confident.
Outline of IIHT's Diploma Program in ACHNP 2023:
A + Hardware
Networking N+
CCNA (220-125)
Windows 2012 Server Basic (MCSA -410)
Windows 2012 Server Active Directory Administration (MCSA 411)
Windows 2012 Server Advanced Administration (MCSA 412)
Redhat Linux Desktop Administration
RedHat Linux Server Administration (RHEL 7)
Storage Fundamentals
Vulnerability & Security
Cloud Fundamentals
Program Features:
Training delivered by highly experienced faculty
Special guidance in troubleshooting from industry experts/exponents
Practical Workshops for knowledge on real-time Implementation
100% Placement Assistance
Industry Visit
Course Completion Certificate
Prepare For The Following Certifications:
MCSA 2012
RedHat Certified System Administration(RHCSA)
Cisco Certified Network Associate
CompTia A+
CompTiaN+
Job Opportunities:
Server Support Technician
PC Support Engineer
Tech Support Specialist
Network Administrator
Linux Administrator
System Engineer
VSystem Administrator on Windows Server
Security Administrator
Security Analyst
Network Engineer
Storage Manager
Cloud Evangelist and more……
Course Fees
Special Offer for working professional and Scholarship offer is given to meritious Students.
Contact 033-40037224 / 46034406/7 or 9088242456 for special course fees offered.
Placement
IIHT's wide reach spreads across 150+ centres around the World which Includes 20 countries. IIHT has placed over 10 lakh students across the globe over the years! Our tailor-made IT training solutions are exclusively job-oriented, elevating the skill and employability quotient. Not just polishing your technical skills, we also work towards enhancing your confidence to face the competition. IIHT ULTADANGA has been awarded as the Best Placement Centre in India with its 100% Placement Record in 2017-2023.
Apart from the central placement assistance, which is guided by the team of highly qualified professionals, We also have zonal placement cells, making opportunities reach every potential segment. To further achieve this, This website is your one stop solution to making you interview ready, Industry ready and job ready.  is a storehouse of information on guidance to everything related to getting an IT job along with some great motivational content.
The number of job postings for skilled candidates is growing at a fast rate in the IT industry. We're here to help you outwit your peers by creating an organized platform to find suitable job opportunities in the industry.
Join Today at IIHT ULTADANGA to have best IT career in Diploma in ACHNP 2023.
IIHT ULTADANGA has both week day's class and weekend classes of 2 hours each class duration. IIHT ULTADANGA is open from 9:00 AM to 7:00 PM (Monday to Sunday).