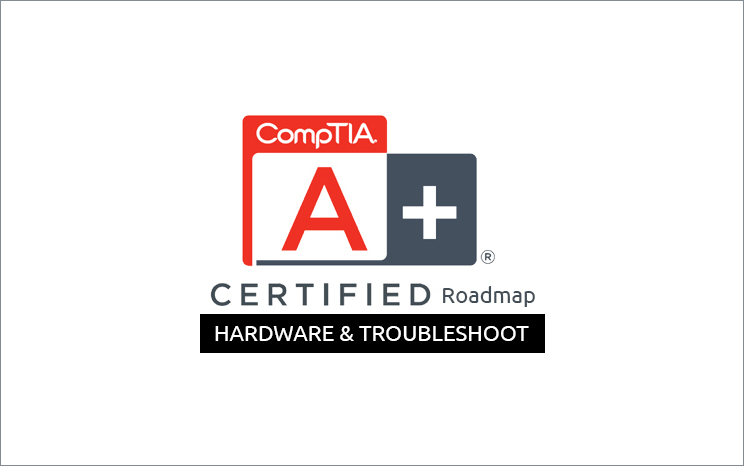 Time
9:00 AM - 7:00 PM (Monday to Sunday)
Comptia A+ – The Best Hardware Training Institute in Kolkata
IIHT Ultadanga is the leading Computer Training Institute for A+ and Hardware courses in Kolkata. The A+ and Hardware course includes Basic Hardware, Assembling, Troubleshooting and Installation of OS and applications. The ComTia A+ / Hardware Program is designed to get the best placement in Kolkata. IIHT is the best Hardware Training Institute in Kolkata which is acknowledged by the IT industries. All B techs, BCA, MCA, graduated have undergone training in Hardware Program from IIHT ULTADANGA. So, if you are looking for Best A+ / Hardware training institute in Kolkata, you are at right place and join us for best placement.
About the Course
Computing Technology Industry Association (CompTIA) is a prestigious international organization formed in 1982. It has a compelling motto "Advancing the Global IT Industry" and has introduced a range of professional IT certifications such as – A+, Network+, Security+, Server+, Linux+, Storage+ and many more. A+ is a highly valued CompTIA certification, best suited for those who want to make a mark in computer service field.
Course Outline ( 40 hours )
PC System Components
Storage Devices, Power Supplies and Adapters, Display Devices
Multimeter handling for testing Power cord, Battery, SMPS
Number system & conversion and overview
Components of Motherboard & devices connection
Devices working principle &interfaces(Processor, RAM, HDD, ODD, Monitor, Printer)
Assemble components based on customer requirements
BIOS, CMOS, BIOS setup program, CMOS backup battery, CMOS clear jumper
PC Hardware troubleshooting
Install, configure & maintain Windows 10 & other software for end users
Dual boot installation with Windows 10 Upgrading o Laptops and Portable Devices
Installing and configuring Printers
Operating System Features and Interfaces
Installing and configuring Operating Systems
Troubleshooting Theory and Preventive Maintenance
Troubleshooting Operating systems, Hardware, Printers and Laptops
Configuring and Troubleshooting Laptops o Resolving Printer Problems
Operating System Structures and Commands
Operating System Utilities and Troubleshooting issues
Understand the basics of desktop virtualization
Revision of the Hardware components and troubleshooting
Course Features
Course Duration – 40 hours
Extensive curriculum comprising 15 modules
Preparation for CompTIA A+ 220-801 and 220-802 exam
Course completion certificate
Course Benefits
1. Training on supporting the most complex IT infrastructures
2. Essential for establishing/boosting IT career
3. Great salary bracket with frequent hikes and increments
4. Suitable for various job positions:
System Administrator
Remote Support Technician
System Architect
Help Desk Technician
Backup Administrator
Network Administrator
Course Fees
Special Offer for Working professional and scholarship offer is given to meritious students.
Contact 033-40037224 / 46034406/7 or 9088242456 for special course fees offered.
Placement
IIHT's wide reach spreads across 150+ centres around the world which includes 20 countries. IIHT has placed over 10 lakh students across the globe over the years! Our tailor-made IT training solutions are exclusively job-oriented, elevating the skill and employability quotient. Not just polishing your technical skills, we also work towards enhancing your confidence to face the competition. IIHT ULTADANGA has been awarded as the Best Placement Centre in India with its 100% Placement Record in 2017-21.
Apart from the central placement assistance, which is guided by the team of highly qualified professionals, we also have zonal placement cells, making opportunities reach every potential segment. To further achieve this, IIHT has its very own job help website – jobready.iiht.com. This website is your one stop solution to making you interview ready, industry ready and job ready. jobready.iiht.com is a storehouse of information on guidance to everything related to getting an IT job along with some great motivational content.
The number of job postings for skilled candidates is growing at a fast rate in the IT industry. We're here to help you outwit your peers by creating an organized platform to find suitable job opportunities in the industry.
Join Today at IIHT ULTADANGA to have best IT career in ITMS.
IIHT ULTADANGA have both week days class and weekend classes of 2 hours each class duration. IIHT ULTADANGA is open from 9:00 AM to 7:00 PM (Monday to Sunday).