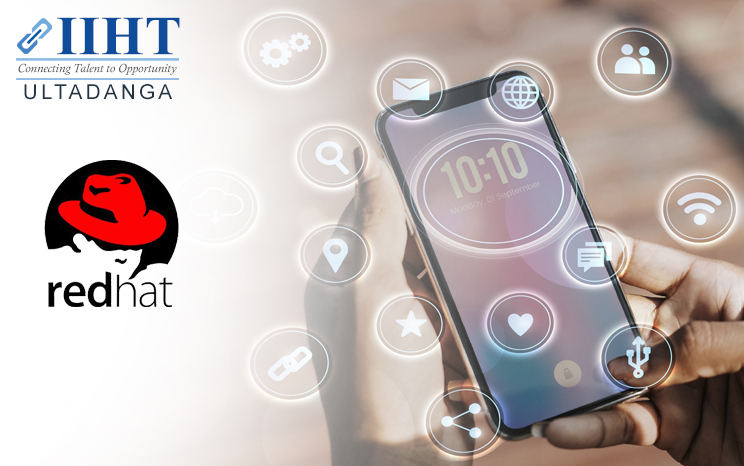 Time
9:00 AM - 7:00 PM (Monday to Sunday)
Red Hat certified system administrator (RHCSA) exam code EX-200
RHEL course at IIHT Ultadanga develops an IT professional's core system-administration skills required in Red Hat Enterprise Linux environments across a wide range of environments and deployment scenarios.
The course outline:
Understand and use essential tools

Access a shell & understanding file system
Use input-output redirection (>, >>, |, 2>, etc.)
Use grep and regular expressions to analyze text
Access remote systems using ssh
Archive, compress, and uncompress files using tar, gzip & bzip2
VIM
List, Create, delete, copy, and move files and directories
Create hard and soft links
List, set, and change standard ugo/rwx permissions

Operate running systems

Identify CPU/memory intensive processes, adjust process priority with renice, and kill processes
Access a virtual machine's console
Start, stop, and check the status of network services
NFS, FTP, HTTP

Configure local storage

List, create, delete partitions
Create and remove physical volumes, assign physical volumes to volume groups, and create and delete logical volumes
Format & Mount the volume & access it.
Add new partitions and logical volumes

Create and configure file systems

Create, mount, unmount, file systems
Extend & reduce existing logical volumes
Create and manage Access Control Lists (ACLs)

Deploy, configure, and maintain systems

Schedule tasks using at and cron
Install Red Hat Enterprise Linux systems as virtual guests
Configure a system to use time services
Install and update software packages from Red Hat Network, a remote repository, or from the local file system – YUM

Manage users and groups

Create, delete, and modify local user accounts
Change passwords and adjust password aging for local user accounts
Create, delete, and modify local groups and group memberships

Manage security

Configure firewall settings using firewall-config, firewall-cmd, or iptables
Set enforcing and permissive modes for SELinux
List and identify SELinux file and process context
Restore default file contexts
Use boolean settings to modify system SELinux settings
The course benefits:
Build the foundation skill for system administration across all Red Hat products.
RHCSA is the first step to become a Red Hat Certified Engineer (RHCE).
Since it is an Open source product, it has been widely used in Enterprise at both the desktop & Server level, thus already created a highly demanding job opportunities from desktop administration to server administration at Cloud.
Join IIHT Ultadanga today make your skill & grab the job at the rapidly expanding IT domain for stable and better prospects.
Course Fees
Special Offer for Working professional and scholarship offer is given to meritious students.
Contact 033-40037224 / 46034406/7 or 9088242456 for special course fees offered.
Placement
IIHT's wide reach spreads across 150+ centres around the world which includes 20 countries. IIHT has placed over 10 lakh students across the globe over the years! Our tailor-made IT training solutions are exclusively job-oriented, elevating the skill and employability quotient. Not just polishing your technical skills, we also work towards enhancing your confidence to face the competition. IIHT ULTADANGA has been awarded as the Best Placement Centre in India with its 100% Placement Record in 2017-21.
Apart from the central placement assistance, which is guided by the team of highly qualified professionals, we also have zonal placement cells, making opportunities reach every potential segment. To further achieve this, IIHT has its very own job help website – jobready.iiht.com. This website is your one stop solution to making you interview ready, industry ready and job ready. jobready.iiht.com is a storehouse of information on guidance to everything related to getting an IT job along with some great motivational content.
The number of job postings for skilled candidates is growing at a fast rate in the IT industry. We're here to help you outwit your peers by creating an organized platform to find suitable job opportunities in the industry.
Join Today at IIHT ULTADANGA to have best IT career in ITMS.
IIHT ULTADANGA have both week days class and weekend classes of 2 hours each class duration. IIHT ULTADANGA is open from 9:00 AM to 7:00 PM (Monday to Sunday).