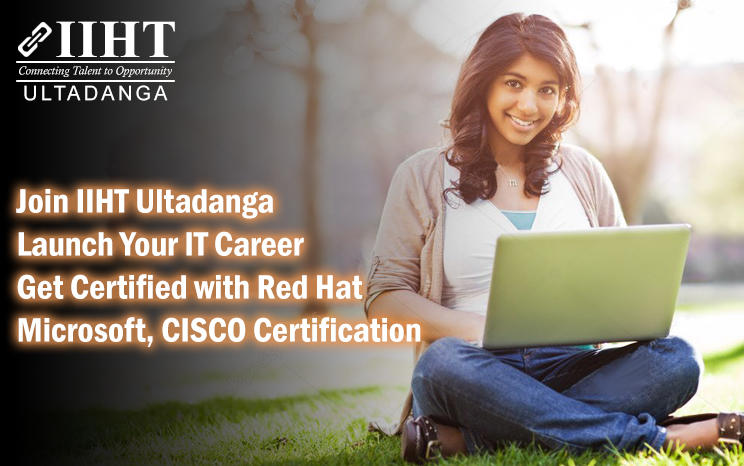 Time
9:00 AM - 7:00 PM (Monday to Sunday)
Cisco Certified Network Associate (CCNA 200-301)
Why CCNA Certification is passport to job guarantee?
CCNA certification program is for entry-level network engineers for graduates and diploma holders, which helps them to maximize in depth concept of networking modules in Router, Switch and Security . It is a globally recognized certification and is valued by most companies. This certification course of IIHT training will make you understand the ability to install, configure, operate, and troubleshoot medium-size routed and switched networks. The new version also includes security and automation programmability.
CCNA Exam v1.0 (200-301)
The Exam Description:The CCNA Exam v1.0 (CCNA 200-301) is a 120-minute exam associated with the CCNA certification as per latest updated in CISCO defined module in 2020-2021. This exam tests a candidate's knowledge and skills related to network fundamentals, network access, IP connectivity, IP services, security fundamentals, and automation and programmability. The IIHT CCNA 200-301 course attempts in making you to pass CCNA certification with proper training which IIHT is doing for last twenty years To better reflect the contents of the exam and for clarity purposes, the guidelines and course outline have been defined as below.
Why do you need CCNA Training?
According to a recent survey, this certificate enhances career 100% Placement opportunities and also provides higher pay by 30%. Some companies has clauses to apply for IT network security domain to have CCNA certificate. This certification will allow you to enhance your knowledge for Network & Security concept in the field of computer networks and proves that you are more knowledgeable than other non-certified professionals.
What is the duration, training cost and admission norms?
The duration is 4 months with 2 hour per class.
The class is regular on 3 days per week and Weekend classes on Sat/Sun.
The fast track module is completed in 30 days schedule.
The fees for regular/weekend classes is 16500/- plus 18% GST as tax applicable.
Scope for those who have done CCNA (old syllabus ) do upgrade at only 9500/+GST.
The CCNA exam fee is 195 USD as may change on dollar value to INR.
The course is available in CLASSROOM training mode and ONLINE LIVE classes.
The admission form available online and contact Ms. Paramita (M-9088242456).
100% PLACEMENT SUPPORT IS available for all CCNA students.
The other courses and modules can be access from www.iiht-ultadanga.in.
The CCNA course Outline
Network Fundamentals (20%)
Role and Network Components
Network Topologies architectures
Physical Interface and Cabling types
Cables issues, collisions, errors, speed
TCP vs UDP
Configure IPv4 addressing and subnetting
IPv6 addressing and subnetting configuration
Compare IPv6 address types
Verify IP parameters for Client OS
Wireless principles and Virtualisations fundamentals
Switching concepts
Network Access (20%)
Configure VLANs (normal range) spanning multiple switches
Inter-switch connectivity configure and verify
Configure and verify Layer 2
Verify ETherChannel and LACP
Basic operations of Rapid PVST+ Spanning Tree Protocol
Describe physical infrastructure connections of WLAN components
Describe AP and WLC management access connections
Configure the components of a wireless LAN access
IP Connectivity (25%)
Interpret the components of routing table
Determine how a router makes a forwarding decision by default
Configure and verify IPv4 and IPv6 static routing
Configure and verify single area OSPFv2
Describe the purpose of first hop redundancy protocol
IP Services (10%)
Configure and verify NTP operating in a client and server mode
Explain the role of DHCP and DNS within the network
Explain the function of SNMP in network operations
Describe the use of syslog features including facilities
Configure and verify DHCP client and relay
Explain the forwarding per-hop behavior (PHB)
Configure network devices for remote access using SSH
Describe the capabilities and function of TFTP/FTP
Security Fundamentals (15%)
Define key security concepts (threats, vulnerabilities, exploits, and mitigation techniques)
Describe security program elements (user awareness, training, and physical access control)
Configure device access control using local passwords
Describe security password policies elements and password alternatives
Describe remote access and site-to-site VPNs5.6 Configure and verify access control lists
Configure Layer 2 security DHCP snooping, dynamic ARP inspection, and port security)
Differentiate authentication, authorization, and accounting concepts
Describe wireless security protocols (WPA, WPA2, and WPA3)
Configure WLAN using WPA2 PSK using the GUI10%6.0 Automation and Programmability
Explain how automation impacts network management
Compare traditional networks with controller-based networking
Describe controller-based and software defined architectures
Automation and Programmability (10%)
Explain how automation impacts network management
Compare traditional networks with controller-based networking
Describe controller-based and software defined architectures
Separation of control plane and data plane
North-bound and south-bound APIs
Compare traditional campus device management
Describe characteristics of REST-based APIs
Recognize the capabilities of configuration management mechanisms
Interpret JSON encoded data
Placement
IIHT's wide reach spreads across 150+ centers around the world which includes 20 countries. IIHT has placed over 10 lakh students across the globe over the years! Our tailor-made IT training solutions are exclusively job-oriented, elevating the skill and employability quotient. Not just polishing your technical skills, we also work towards enhancing your confidence to face the competition. IIHT ULTADANGA has been awarded as the Best Placement Centre in India with its 100% Placement Record in 2017-21.
Apart from the central placement assistance, which is guided by the team of highly qualified professionals, we also have zonal placement cells, making opportunities reach every potential segment. This website is your one stop solution to making you interview ready, industry ready and job ready.  The number of job postings for skilled candidates is growing at a fast rate in the IT industry. We're here to help you outwit your peers by creating an organized platform to find suitable job opportunities in the industry.
IIHT ULTADANGA has both week day's class and weekend classes of 2 hours each class duration. IIHT ULTADANGA is open from 9:00 AM to 7:00 PM (Monday to Sunday).